 Employer Brand Analysis, Strategy & Implementation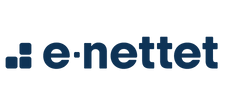 Employer Culture Analysis
e-nettet needs the best of the best talent and understands how tough it is to attract and retain those people. They wanted to strengthen their market position and, therefore, needed someone to build an actionable strategy to put their brand on the map.
"We needed someone to help us set a direction, formulate a strategy, and translate it into concrete action.
– Louise Dons, Marketing & Employer Branding Manager
1. An in-depth understanding of their culture's strengths and areas of improvements
2. An actionable Employer Brand Book (Strategy)
3. A new careers site
4. Tools, frameworks, and guidance for a successful implementation
To see e-nettet's new careers site, click here
We were attracted to the idea of partnering with a smaller agency specializing specifically in employer branding, rather than a large communication agency where a company of e-nettet's size quickly becomes a small client that gets lost in the crowd.
Louise Dons, Marketing & Employer Branding Manager
"There were several 'aha'-moments during our partnership with Hume – for example, there are strengths at e-nettet as a workplace that we didn't even think to communicate."
– Louise Dons, Marketing & Employer Branding Manager
To build the foundation for e-nettet's new employer branding strategy, we analyzed three key areas:
e-nettet's culture 
e-nettet's target groups of candidates
e-nettet's biggest competitors
Internal Culture Analysis
Based on our initial analysis, e-nettet gained data-backed insights into areas of improvement regarding their workplace.
Ideal Candidate Profile Analysis
We delivered an in-depth presentation of their target group's preferences,  digital behavior, and candidate journey.
The competitor analysis forged the foundation of our strategy going forward as we could take an informed, strategic decision regarding where to position e-nettet in the market.
It's important for us that strategies are concrete, activatable, and created to thrive in the real world.
Therefore, we used the knowledge gained from the gathered data, insights, and feedback from Step 1 to forge a solid strategy e-nettet could activate.
We gathered everything in an Employer Brand Book mixing data, strategic choices, creative concept, actionable content ideas, formats, frameworks, and much more.
Employer Branding Strategy
An Employer Brand Book containing:
Target Group Insights & Culture Strengths 
Positioning & Expression
People Promise
LinkedIn Strategy
New Careers Site
Action Points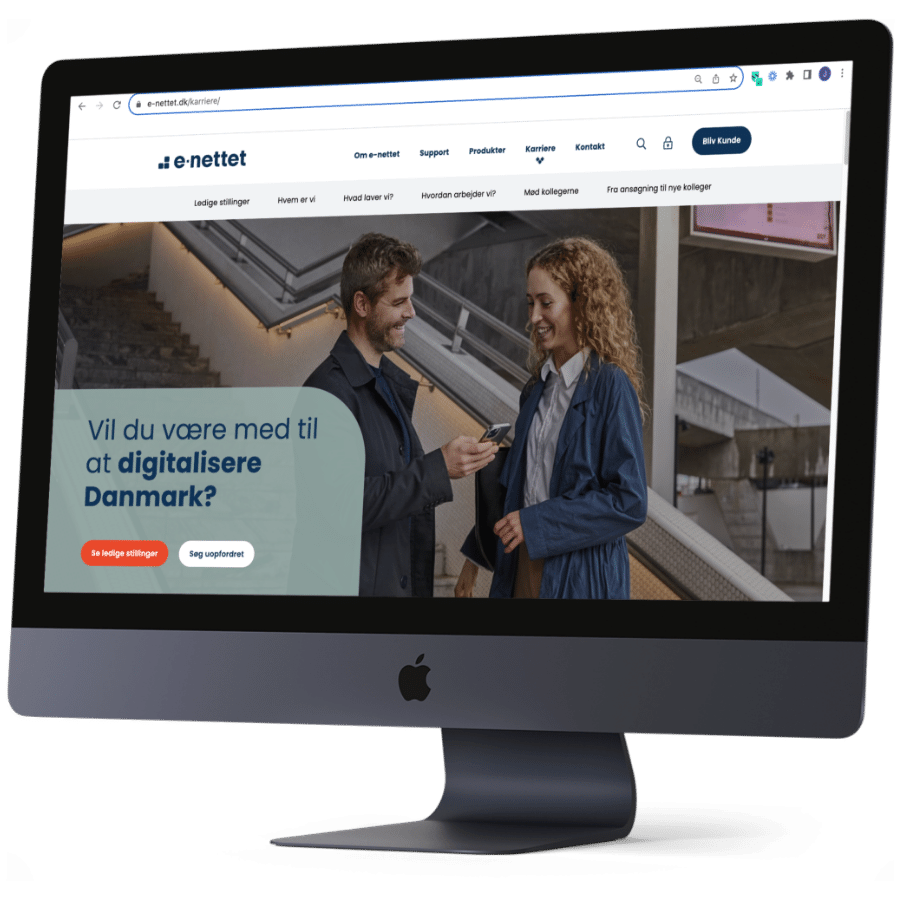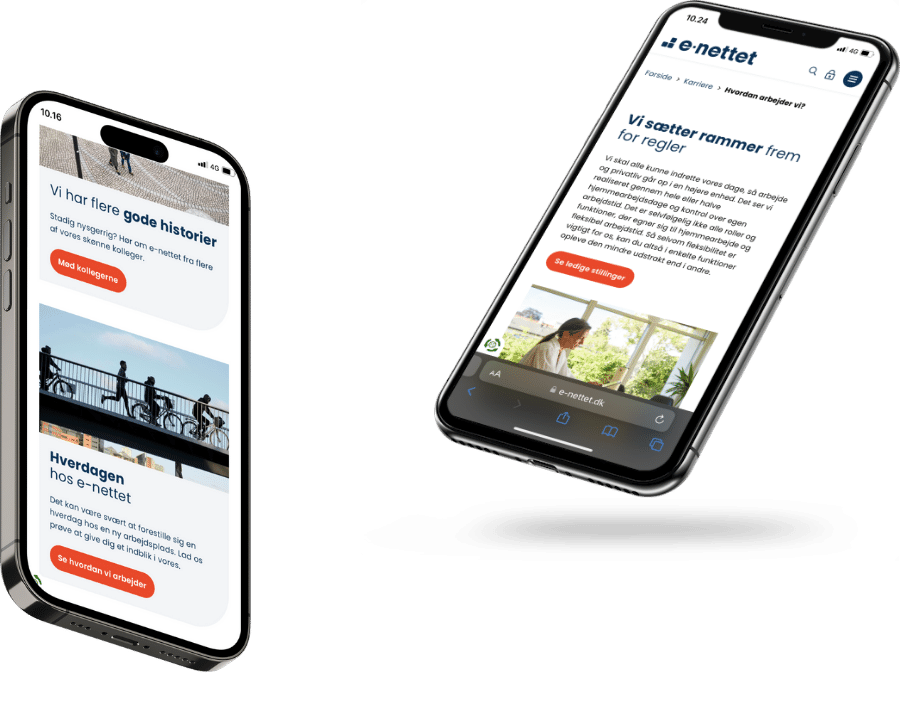 Strategies lying on a shelf make absolutely no difference in the real world. Therefore, we wanted to stay close to e-nettet in the delivery phase. In that way, we ensured a smooth implementation of the new concept, careers site, and day-to-day action on LinkedIn. 
We created an easy-to-use content calendar to organize weekly LinkedIn posts.
We sparred with the technical team regarding the implementation of our UX/UI & design for the new careers site
We delivered files covering activation pieces for the new creative concept 
What does e-nettet have to say?
"First and foremost, Hume's work set the direction and was very actionable. In addition, we became much wiser about our own organization and culture and have received a lot that we can continue working with."
– Louise Dons, Marketing & Employer Branding Manager
"Because you get truly competent help from two razor-sharp guys, who on top of that are extremely pleasant company. Easy and uncomplicated collaboration based on where the company is at. Good project management and follow-up on things. Great value for the money."
– Louise Dons, Marketing & Employer Branding Manager
Interested in gaining insights into your culture and getting strategic with your employer brand to attract better customers & candidates?

Then book a non-binding call where we'll dig into your situation to see if we're the right fit for each other.