Targeting the younger generation of IT candidates
Content package for Delegate
Targeting the younger generation of IT candidates
Delegate wanted to break down buzzwords and truly show what they have to offer to young professionals. The goal was to provide young IT candidates with a transparent and authentic impression of Delegate as an employer.
Our three main deliverables: 
A slow-paced employee movie that is relatable to the target group and aesthetically pleasing to the eye
Authentic content which answers specific questions candidates sit with before considering a new employer
A career universe catered explicitly to the target group's online behavior when researching job opportunities
A relatable and cinematic employee movie
We wanted to go beyond buzzwords to forge a meaningful connection between Delegate and the target group. It wasn't about selling Delegate as an employer. It was about giving a voice to an employee that candidates could mirror themselves in.
Delegate wanted a cinematic video that showcased their down-to-earth culture and mantra #Workfromanywhere. But we wanted to go even further. Based on our internal and external analysis, we created a concept that bridged the gap between Delegate's strengths as an employer with the target group's main preferences while capturing the feeling of their people and culture.
FYI the movie is in Danish.
Creative direction and production by AGENCY6!
It is crucial for the candidate journey that potential new employees can get their questions answered as quickly as possible. With the knowledge we gained from the external analysis, we understood which questions were urgent and most common. To make it authentic and relatable, we asked these questions to four young employees at Delegate so candidates could get their answers straight from the source. To ensure maximum value for our client, we created a SoMe friendly intro that ensured the content could strive on multiple channels.
This provided Delegate with 27 pieces of content.
UX/UI & copywriting for a student career subpage
Young IT candidates' user flow differs massively from, e.g., experienced salespeople. Therefore, we created a people-centered career universe that caters to the target group's behavior and gathers all relevant content, excluding buzzwords. The subpage makes it easy for new candidates to quickly get the right impression of Delegate and make a well-informed decision if it's a place for them or not.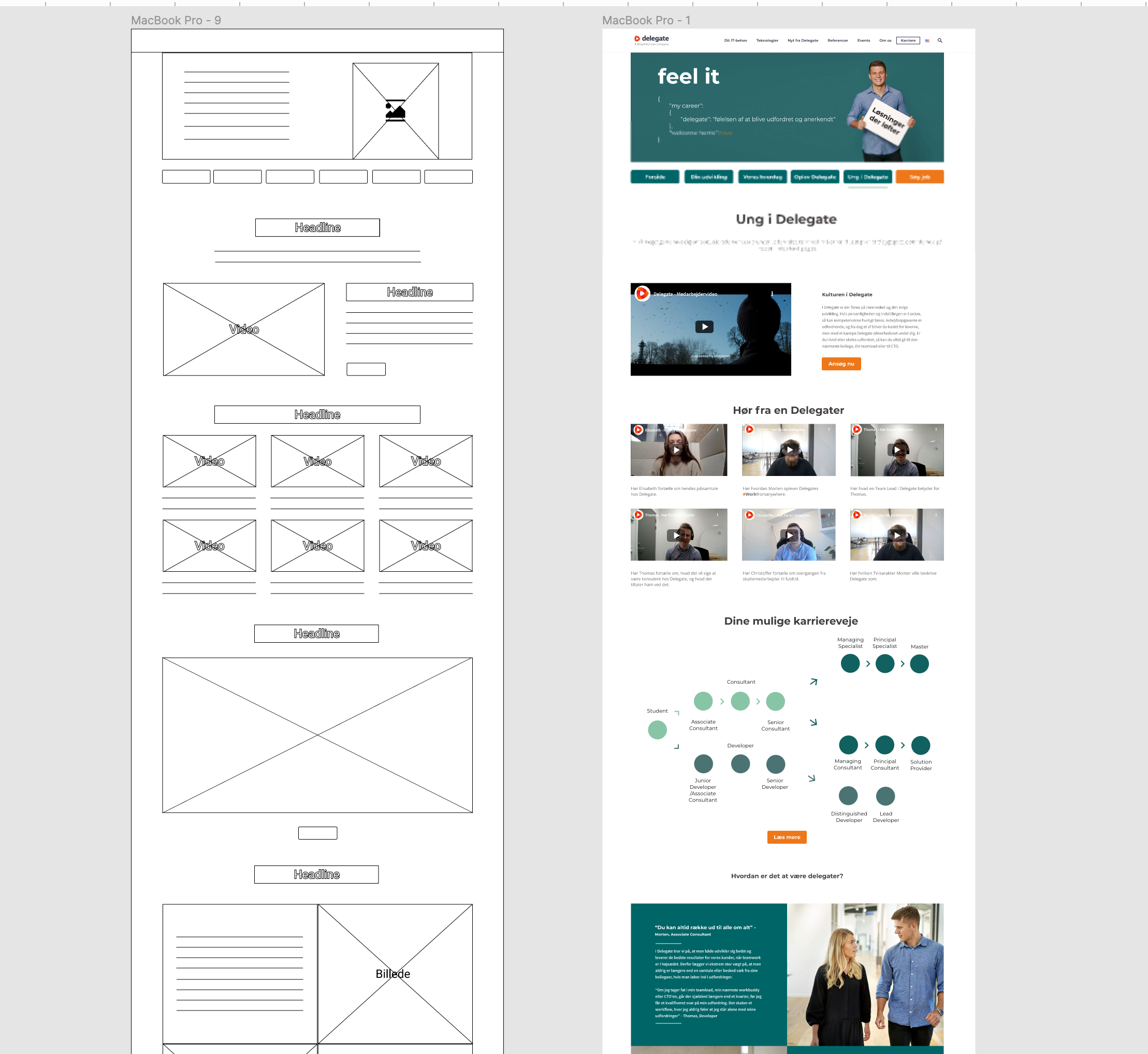 To provide candidates with an authentic and relatable view of Delegate, we started the process by acquiring a deep understanding of young IT employees' perspectives of Delegate as a workplace. We conducted several group interviews where the goal was to understand strengths and to break down common used buzzwords into relatable stories. 
With the foundation laid, we moved to the following external stage. We collected data and conducted interviews to truly understand the behaviors and preferences of young IT candidates when choosing a new employer. Based on the internal and external analysis, we developed a concept that bridged the gap between the strengths of Delegate and what IT students prefer in an employer. 
Time for execution! From our initial analysis, we constructed a communication plan that sat the direction for our deliverables.
You can see examples of the content created below. But before you do, listen to what Delegate has to say about our partnership.
"They have been highly professional, sparred with us, challenged us, and made us think outside the box."
Wanna know how Delegate interpreted the proces and our work? Hear from Jeanne, Head of Marketing and Employer Branding at Delegate.
If you want to know more about this specific work, or if you have an employer branding project of your own, feel free to reach out at jl@humeagency.com