Pushing creativity into employer branding
Few companies truly stick out. Very few try out things that haven't been seen before. #hiring posts are flooding LinkedIn, and candidates couldn't care less.
We work together with companies that want to do something different. Push the limits and provide real value to candidates through a people-centered approach to talent attraction.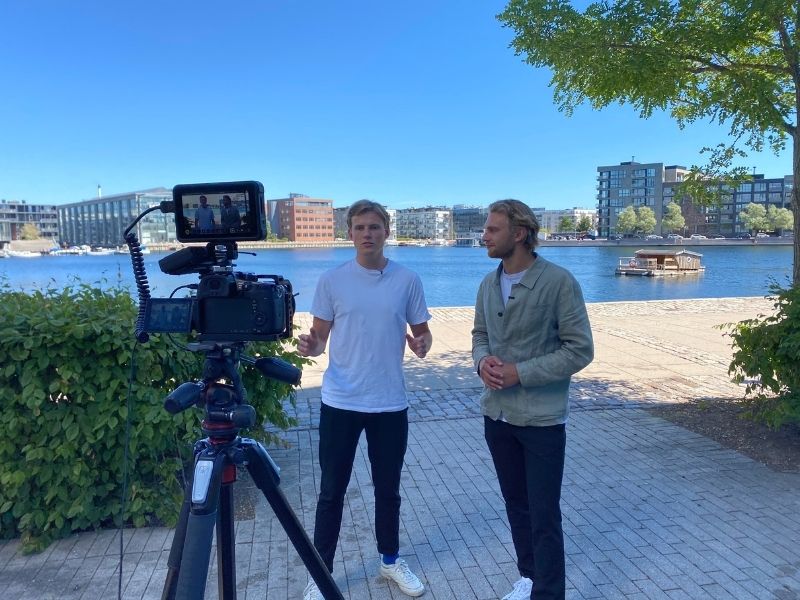 About Hume Agency
We're young people with a single focus. Renewing the employer branding and talent attraction space to suit a candidate-dominated market. We love creative content and we want to help your company build an effective strategy and execute it to impact the way you attract talent.
Began our journey with a focus on students
We started our journey as "Studentcore" in mid-2020. Back then, our main focus was connecting students and companies through live events. Covid-19 made our idea a lot more complex. This meant that the process of on-site marketing and facilitation of our first case competition was more challenging than first anticipated.
In collaboration with Telenor, we postponed the event date to October 2021, where we organized an amazing event with the most talented tech and IT students on-site at Telenor's office space in Aalborg.
During this process, we realized we wanted to help companies even more within the employer branding space. We needed to scale.
The Employer Branding Roadmap
Today, a lot has happened for Hume. We're working with amazing companies that don't only speak about a people-first approach but actually act accordingly. We help companies from building the foundational employer branding blocks to using them actively to attract great talent aligned with the culture.
When partnering up with Hume, we start by analyzing your company culture, looking for strengths and potential weaknesses, and whether leadership and employees' perception of the workplace aligns or not. Furthermore, we analyze your talent pipeline to better understand your audience(s) preferences when looking for a new job and where they can be reached.
When the foundation is laid, we combine strategic thinking with creative power. Forming impactful communication lines that bridge the gap between your target audience's preferences and your company's strengths. Finally, we help by providing your internal team with content frameworks, or we help create compelling content to reach your target audience(s).
We're going to bring creativity and impact to the employer branding world
We want to transform the employer branding industry from dusty and boring to creative and impactful.
Without the right people, businesses won't be successful.
By helping companies put actions to words, we strive to move the industry in a more human-centered direction, resulting in stronger companies and happier people.
We help you utilize the true powers of employer branding
Sounds interesting? Would love to have a chat with you and explore what kind of adventure we could go on together! Hit us up.
What we're pondering about